PATROLS hosted Stakeholder day at OECD: AOPs in focus
PATROLS hosted a stakeholder workshop on 12 September 2019 with the aim to showcase and seek stakeholder feedback.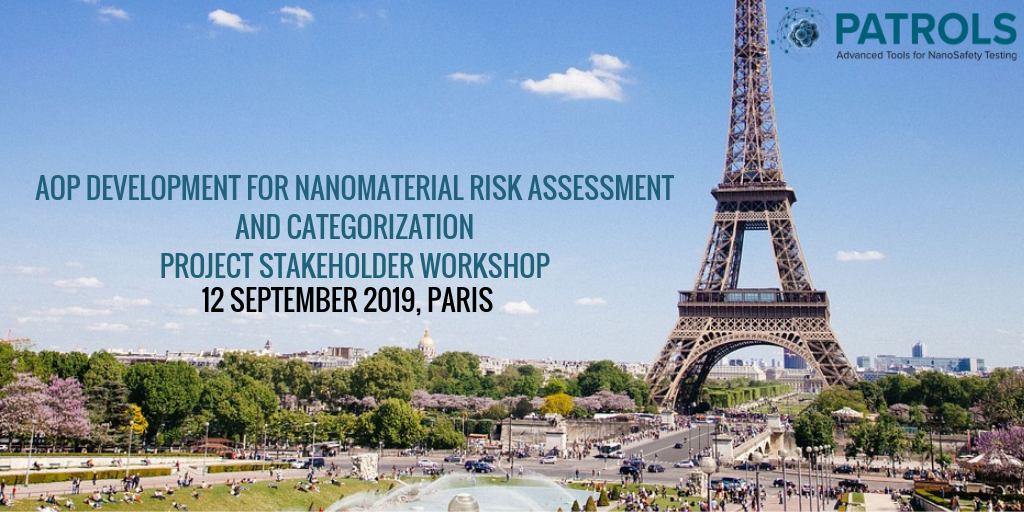 PATROLS hosted a stakeholder workshop on 12 September 2019 with the aim to showcase and seek stakeholder feedback, particularly from the standards and regulatory community on the advanced methods and tools being developed.
44 attendees from 15 countries across Europe, Asia, North America and South America attended the workshop, which delivered a combination of presentations and discussion break out sessions.
Presentations from PATROLS included:
Vision & Stratety: PATROLS Stakeholder Workshop - Shareen Doak; Swansea University Medical School, UK. Slides
Nanomaterial (NM) characterisation in biological systems and in silico hazard models
Methodologies for NM characterisation in complex in vitro human systems – Keld Alstrup Jensen; NRCWE, Denmark. Slides
Methodologies for NM characterisation in complex ecotoxicological systems – Jorge Mendoza; University of Namur, Belgium. Slides
In silico testing systems – Lang Tran; Institute of Occupational Medicine, UK. Slides
Advanced in vitro human tissue models and ecotoxicity testing systems
Breakout sessions addressed questions including:
What would encourage you to consider data generated using these tests/what would you like to see in order to reduce uncertainty around the use of these tests?
Which models/tools would you see value in taking forward/accelerating into a risk assessment setting and why?
Are the tools applicable across all or only certain sectors?
PATROLS would like to thank the OECD and all workshop participants for an active day of discussion, with key conclusions including:
Methods could currently be used within sequential testing strategies to indicate which animal tests are needed and also in weight of evidence arguments/integrated approaches to support waiving of in vivo tests.
The methods do not need to be high throughput – this will come after assays are validated
The methods are applicable to different sectors, but test conditions may need to be adapted.
AOP-type approaches may be useful to increase confidence that the appropriate endpoints with the new methods are being addressed.
How widely the methods can be used for regulatory purposes depends on how predictive they are of real-life situations.
There are currently challenges around validation of the methods, due to the limited amount of in vivo data available and because it is not clear how best to do this for 3D models. In the absence of NM in vivo data, well-understood chemical controls should be used and the tests could be evaluated against standard in vitro approaches to demonstrate improved performance.
Characterisation of NM physicochemical properties and the roles these play in exerting toxicity is extremely important.
The test methods should be accessible and affordable to industry.
Future funding calls should be focused on requirements to support assay validation, including large-scale ring trials, which is necessary to attain regulatory acceptance.